OUR STORY
A Loved and Living Church
"There is no power for change greater than a community discovering what it cares about."
Protected by the arms of the town walls in the Raleigh Quarter of Youghal, St Mary's Collegiate Church is a national monument of international significance and a unique tourist attraction. It is the oldest church in Ireland still in continuous use – now with a new story to tell…
Back in the 13th century, St Mary's was the only parish church and the centre of religious worship and endowment for the medieval townsfolk. It is a rare Irish example of a large medieval parish church and in its time, it has seen much expansion, building, destruction and repairs. The Church is possibly the third to be built on this site – preceded by an early monastic timber church in the mid-5th Century which was replaced by a stone-built Romanesque style church in the mid-11th Century.
St Mary's Collegiate Church was built as a catholic church and remained so until the English Reformation of 1535.
Our 'Voices of St Mary's' experience celebrates the story of the Church. On our audio tour you'll be compelled and moved by the conversation and memories of the Roe family… and entertained and engaged by a wealth of exciting interactive displays. All bringing to life how the values that shaped St Mary's of the past are just as resonant and real today:
Architectural Wonder
Feel connected
Feel connected to our heritage through the Church's magnificent architecture. The incredible 13th century oak roof structure and thick stone walls that have provided sanctuary during war and famine, and tranquillity in times of peace.
Tomb sculpture and early woodwork and ironwork are rich with iconography and meaning, and there are surprising artefacts that gives us clues to our ancestors' inventiveness – from acoustic pots set high above the choristers to amplify singing, to an 'underfloor heating system' of the 1820s. Unusually, the church also features a Bishops Throne and Pulpit – both normally found only in cathedrals.
Human
Connection
Stories of births and deaths, beginnings and endings, celebrations and sadness. Worship, ritual, remembering and looking forward. These human moments are how we make sense of the world, just as those who came before us did – and through this we are ever-connected..
The church's Baptismal Font, dating back to the 1400s, is a symbol of this connectivity: babies have been held over the Font for more than 600 years – the beginning of so many life stories. Before you leave you can make your own personal connection and memory by weaving a thread in our special Visitors Rug.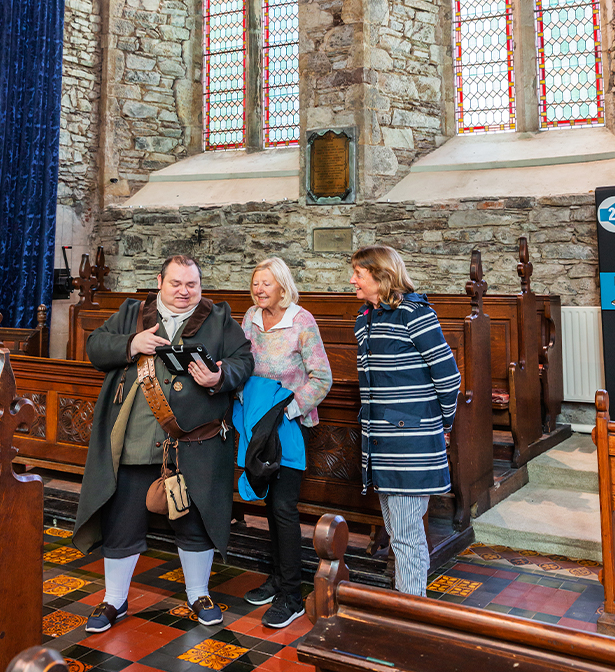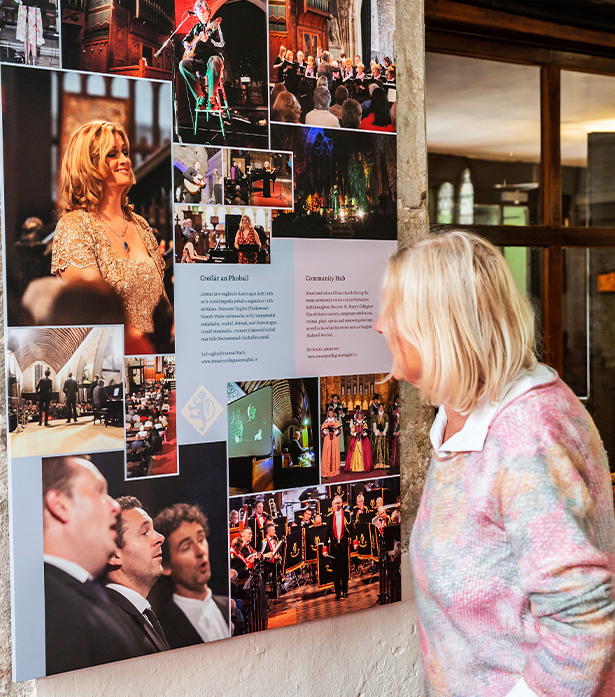 People
People are the lifeblood of the church – from ordinary townsfolk to the historic elite. The Chapel of Remembrance honours 200 local people who died in the First and Second World Wars, while the Nave's breath-taking East Window incorporates the crests of the families whose lives are intertwined with St Mary's.
The church even has a memorial to the town's very own princess! Many famous names are connected to the church too: Sir Walter Raleigh and Oliver Cromwell both worshiped here, while the first Earl of Cork, Richard Boyle, is buried here.
The Boyle Chapel is named after this famous businessman of the 17th century.