Blackwater Valley Opera Festival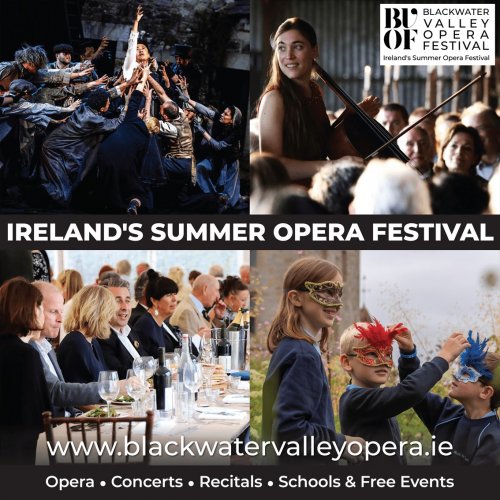 St Mary's Collegiate Church Recital BVOF 2023: With Artists from the Blackwater Valley Opera Festival Chorus
Tuesday 30 May at 7pm – St. Mary's Collegiate Church, Youghal
Artists from the Blackwater Valley Opera Festival Chorus will step on stage for the first time at St Mary's Collegiate Church Youghal. Nestled under the protective arms of Youghal Town Walls in the Raleigh Quarter, some of Ireland's most talented emerging voices will appear at this atmospheric and stunning venue, performing arias, duets, and ensembles from some of the world's best-loved operas.
Full programme details to be announced. Tickets €25 / €10 concessions. Limited concession tickets available for senior citizens, full-time students, unwaged and disabled visitors. Maximum 2 tickets per customer account. Proof of eligibility required. T&Cs apply.
Blackwater Valley Opera Festival returns from 29 May – 5 June 2023. More than 4,500 visitors will return to experience many classical music and opera performances, with four evening performances of the opera Macbeth, by Giuseppe Verdi, in the grounds of Lismore Castle, Waterford – and 21 events at 12 venues over eight days.
Book online at www.blackwatervalleyopera.ie or call the BVOF Box Office on 087 407 9250.
Back to all events